It's been a pretty good year for the cottage so far even if it is cold and rainy every weekend.  There has been progress, particularly on the outside as you can see from the picture.  We decided to add two more windows to the lake side of the cottage for a few reasons.
We will get a better view of the lake, increase air circulation, and most importantly add light to the dining and living rooms.  We found out after the cottage was built that the corners of the rooms were very dark.
We struggled with the decision to add the windows because we are on a tight budget and this wasn't in the plans, but now that we have them in I'm very happy we made the right choice.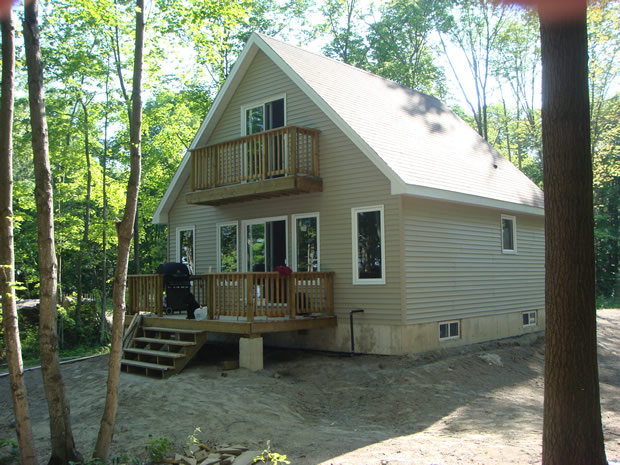 As you can see we also had the siding installed.  I found a contractor in the area and he did a fantastic job for a decent price.  I'll be calling on him again when it comes time to drywall.  Other little projects outside were adding stairs to the front and back decks.  We did a little landscaping and built a picnic table which turned out to be very good.  At least we have somewhere to sit and eat and play games now.  If you are interested in building a picnic table you can find the plans here.  The only outside projects left with respect to the building are to install exterior outlets and put up the eaves troughs.
The inside of the cottage is a whole different matter.  It is still bare studs, but I did have the basement floor poured in the spring.  I've run just about all my electrical wires to their boxes and have a rough inspection scheduled for Aug 19/2009.  Hopefully that goes smoothly and I can have power throughout the cottage rather than plugging and unplugging extension cords as I am now.  I've also almost completed my drainage and vent pipes for the plumbing.  A few more cuts and it will be dry fitted.  From there I have to level it, hang it, and then glue it all together.  I've met with both plumbing inspectors and both have been extremely nice and helpful.  That makes things much easier on a guy like me that is doing everything for the first time.  Once the drainage pipes are glued together I'll run the flexible water supply pipes, no copper or soldering for me.  I don't think that will be too much of a big deal, although I say that about everything, because I only have a kitchen sink, bathroom sink, toilet, and shower to run the pipes to.
I'll be contacting a HVAC contractor soon to install the furnace, water heater, ducts and propane line.  Of course this will end up being way more then I'm going to anticipate, but it needs to be done before the winter comes.  If everything goes to plan I should be able to have the cottage in a state where we have electricity, plumbing, heating, and is insulated by the end of the year.  Which means by next summer it should be fully complete and I can start concentrating on my fishing!  Did I mention the fishing on my lake is great?  I will in an upcoming post.
Thanks for all the comments over the past months while I haven't been doing much updating.  I'm especially enjoying all the comments about the Mantracker show!  They make me laugh.  Keep it up!