It has been a while since the last article and a lot has changed since then.  In my previous article Construction Begins we had just cut down the trees to clear space for the cottage.  That alone was a huge visual change after looking at the densely treed lot for more then a year.  Once those trees were cleared it didn't take long for the site to be ready for concrete to be poured.
The site excavators stripped back the top soil and were only able to dig down 2ft for the foundation because of the high water table.  Digging down any lower would leave them swimming.  I had scheduled about 2 weeks for excavation to be completed and I got a call 3 days in saying they were done!  I needed to get a foundation contractor in there quickly to set the footings before the soil was disturbed too much.  I asked my excavating contractor if he knew anyone and he put me onto a guy that was very professional so I went with him.
I took a day off work to spend a day by the water with the family in the summer and meet the foundation contractor to go over what we wanted to do.  We went with a full basement 8ft walls for two reasons.  The main one was it would only be another $2500 to have 8ft walls as opposed to a crawl space.  The second was we didn't plan any storage room into the cottage so a full basement would provide ample space.  So I met with the foundation contractor for about 15mins.  He left to get permits from the city and 30mins later he had a crew there framing the footings for the walls and floor.  An hour later they were gone and the family and I enjoyed a peaceful day in the sun and water.  Again I was thoroughly impressed with the professionalism and speed in which the contractors went about their work.  This gave me peace of mind seeing how I live 2.5hrs away from the job site.  The foundation guys were done in a week and a half due to some rain delays.  Here's a picture of the foundation with a weather barrier wrap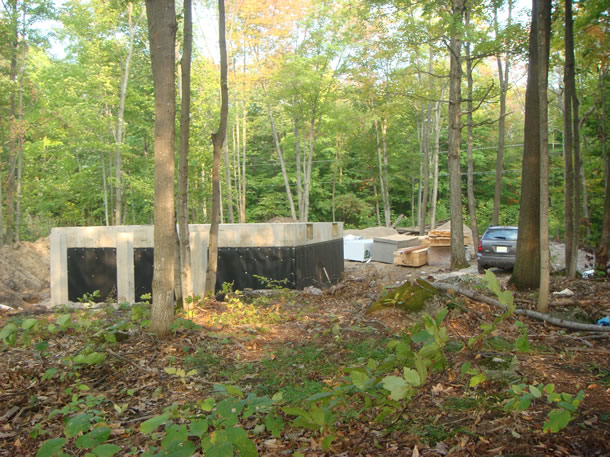 With the foundation finished I needed to find some framing contractors to build the cottage.  Look for my next posting on framing.