The dock is in and we keep rolling on!
We went to the Cottage Life Spring Cottage show and visited a number of dock vendors before finally picking Rideau Docks. They appeared to be a smaller company (family run) then many of the other vendors, but their prices were good and I liked dealing with the people there compared to some of the other vendors.
We went with an aluminum framed dock with posts and feet that will just sit on the lake bottom. We decided to spend a little extra money and get the Thru-Flow decking, a composite of some sort, since it was light weight and maintenance free.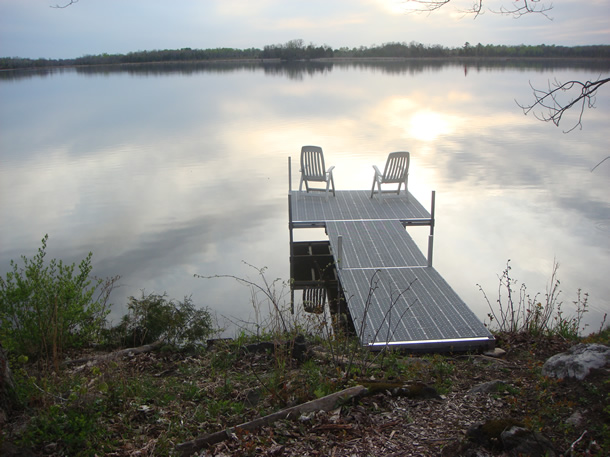 Rideau Docks delivered it to the cottage this past Saturday and a friend and I installed it in about 1.5 hours. The dock is made up of 3 pieces. A 4×8 foot ramp connected to a 4×8 foot walkway, connected to an 8×8 patio. Other then getting the patio from the driveway to the water everything was relatively easy. I would guess the patio weighed somewhere around 120lbs.
My friend and I were fishing off of the dock that night and had a great time. Having a dock really makes enjoying the lake much easier.
In terms of cottage progress I've insulated and vapour barriered the main level and upstairs of the cottage. I'm currently building walls in the basement and insulating them. I've got one wall left. When that is done I'll get the building inspector back in to inspect the insulation. I also decided to hire a plumber to do the rough-in water lines. I could have done it myself, but it would have taken me at least a month going up on weekends where this contractor can do it in one day for a reasonable price. So he was in there yesterday and I think he is going back on Friday to finish things up. He has put in the water line to the lake, installed a heating wire so the pipes don't freeze in the winter, connected the water pump, pressure tank, a sediment filter, a charcoal filter, an ultra violet filter, the water heater, and run the water lines to the bathroom and kitchen. Sometime next week I'll get the plumbing inspector to come back and approve the waterline rough-in.
Once those inspections are complete I'm going to have a contractor come in and dry wall the main floor and second floor. We purchased 12.3mm laminate flooring this weekend, which we will install throughout the cottage once the dry wall has been painted and then it will be a matter of installing cabinets and finishing the plumbing connections. I hope to have everything done by the end of July.