There have been some requests lately from readers that would like to follow the same steps I did in building a cottage and they are looking for costs to put a budget together.  I know where they are coming from because before I started all this I couldn't find any costs or quotes or even a task list of things I would need to pay for.
So I thought I would list some of items I paid for and their approximate costs to help folks out.
Take into consideration regional prices, taxes and the size of the building.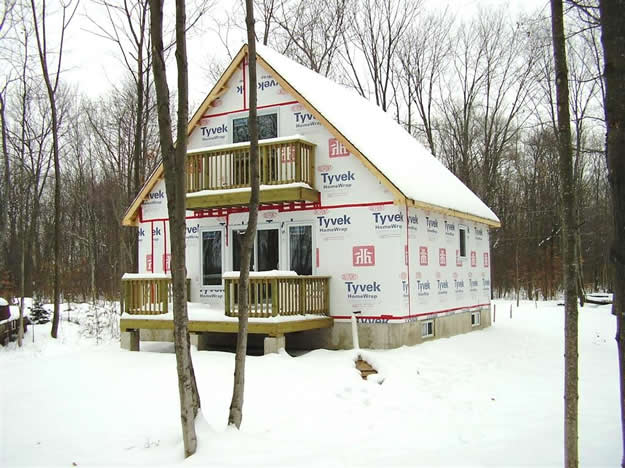 So here's what I did:
Customized cottage kit from Home Hardware (1050sqft, 25'x25' footprint, included drawings and materials for a cottage shell) – $27,000
Grading, Septic, Driveway (I had to bring in a lot of fill because of a high water table) – $17,000
Full Basement Foundation (8 inch poured concrete) – $10,000
Drainage Membrane for Foundation – $500
Tree Removal – $2,500
Framing Cottage (in a weather tight state, see picture) – $9,000
Shingling the Roof – $1,000
Temporary Electricity (power from the street to the cottage and a circuit panel installed) – $1,500
Building, Plumbing, Entrance Permits – $1,500
Estimates – Items I haven't completed yet
Install Vinyl Siding – $2,000
Install Ducting, Propane lines, and Propane Furnace – $5000
Interior Materials (Drywall, Flooring, doors, cabinets, sinks, shower, toilet) – $6,000
DIY – Items I plan to do myself
Install electrical wiring throughout the cottage – ?
Install plumbing – ?
Total Approximate Cost of the project = $83,000+
Hope this helps and good luck!