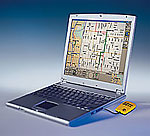 You've planned a weekend getaway at a cottage, or resort, or you are just going on a road trip. How are you going to figure out how to get there? Follow a map? Too old school and the map may be out dated. Today's traveler uses GPS to find out where they are and where they are going. You could buy a car that has this built in, but if you are like me and don't have that kind of money to throw around your next best option is to buy a separate unit. Portable GPS units typically range from $179 to $1200 and sit on the dash of your car. There is one more option however and at $129 CAD it is the best valued option if you have a laptop.Delorme Earthmate GPS (LT-20) comes with a GPS unit that connects to the USB port of your laptop and the Street Atlas USA 2007 DVD-ROM software, which now includes Canadian streets and cities.
The GPS features have GPS Radar Search allowing you to find gas stations, hotels, and shopping in the area you are traveling. Automatic Back-on-Track GPS and GPS Spoken Directions that offer voice directions for upcoming turns and streets names. It can also be set up to respond to voice commands and questions.
If you have a laptop and you are planning a trip or have been thinking of getting GPS take a look at this product as a comparison to dashboard portable units.